9 Easy Cakes to Make, Amazingly Amazing Cakes…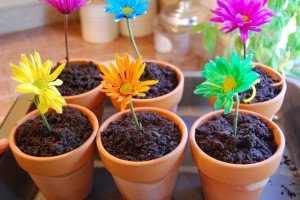 While planning my toddler's birthday party, we Googled for B-cakes ideas.
I'm what you might call a "kitchen challanged"mom.
Usually I end up asking my sister-in-law to bake a cake for me…
This year I decided to give a fight:
My daughter and I googled endlessely, looking for the coolest easy cakes to make.
I was sure that the coolest cakes are NEVER easy
…well that turned to be a surprise.
I let my daughter chose a cake that she wants to bake herself, which turned to be a great idea.
She chose.
To bake them all!
One on each weekend…
These are the "chosen":
1. Flower pots cake: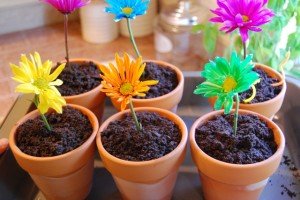 Believe it or not, those pots are filled with GF cake, Turtle Mountain ice cream and topped with GF crushed up "oreos".
Found them in this blog .
Recipe – here
How is this for an original easy to make cake?
2. Kit Kat cake: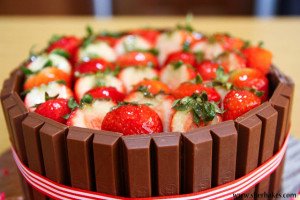 This is so easy to make, even for me!
Actually it doesn't matter what's inside, the simplest chocolate cake will do.
It's the kit Kat that made her squeal with delight.
Found here

There are many versions of this amazing cake idea, all great.
3. Rainbow cake: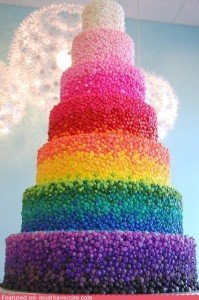 Picture is from Pinterest, it doesn't really link anywhere.
Let's face it:
The simplest recipe that you have will do:
Bake several sizes, put them one on top of the other and cover it with a chocolate cream and colored cake decorations.
It's only the rainbow colors that matter.
Amazing, isn't it?
4. Colored cake: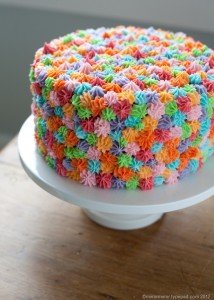 The secret:
The simplest cake recipe covered with cake decorations of mixed colors!
So simple and amazing!
Found here
5. White cake:
My daughter chose this cake as her # 1 .

So easy:
Cover it with whipped cream and M& M's, and you're a genius.
Cake Idea from here
6. Another rainbow cake:

Now this requires a bit more effort.
I didn't say "a lot".
It's mainly a simple white cake, mixed with colors.
And this is how it looks inside:
Full instructions here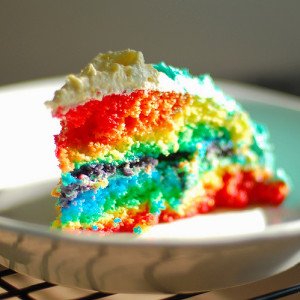 7. Ice cream cone cake:
This one is also an amazing idea (hey, did you hear me saying that before??)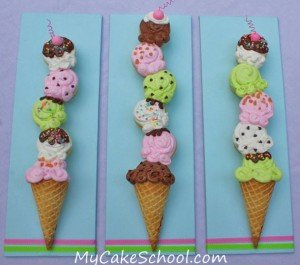 This looks complicated
It's actually only about decorating cupcakes (in this case they used confetti sprinkles, mini chocolate chips, & toffee bits for decorations), and placing them one on top of the other in the shape of an ice cream cone!
This great easy cake idea is from this blog.
8. Marshmellow cake:
Hey, did you think we're done here?
This is my daughter's choice for the kindergarten! A cake covered with marshmallows.

Can a cake get any easier than that???
Picture here, again no recipe is needed:
Just bake a white or chocolate simple cake, and cover it with marshmellows on a whipped cream or chocolate cream.
9. Donats cake:
She was thrilled with this one.

Looks amazing, and no work at all!
Exactly for moms like me:
Buy the donats, let the birthday bride put it on top of the other and then let her decorate it with something.
The perfect cake! Found it here
I don't feel so very smart, now that I know how easy it is to create the most amazing cakes…
I hope you will find one easy cake to make at least in this post.
You don't have to try them all like me….:)
Last but not least – looking for easy cakes to make?
I ordered these 2 books from Amazon, and find them extremely helpful and bunch of fun:
So, good luck, and hey: Send me pictures!