A Less Sugary Birthday for Children with Diabetes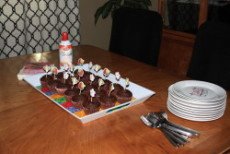 Birthday celebrations tend to be sugary events. Cakes always seem to take center stage, and with children with diabetes, the challenge is to come up with an equally impressive, but less sugary option.
V.'s 8th birthday party isn't until next weekend, but her actual birthday was yesterday. We wanted to celebrate the day without going overboard because we know Grand-maman will be making one of her amazing concoctions for the party next week and didn't want too many overly sweet treats in so short a time.
Here's how we marked yesterday's less sugary occasion:
Instead of a cake, we made cupcakes. It's much easier to control portion sizes with a cupcake pan than cutting freehand with a knife. Plus, the portions are smaller and you get more of them. For a boxed Duncan Hines Deluxe Dark Chocolate Fudge cake, 1 slice nets 34 carbs; 1 cupcake nets only 14.
Instead of frosting, we used whipped cream. If we had put a mere 1 tbsp of Classic Chocolate Frosting onto each cupcake (and, let's be honest, who would ever put that little?), it would have added 11 grams of carbs, nearly doubling the carb count per cupcake. By substituting Gay Lea Real Whipped Cream, we could spray on 4 tbsp for only 3 grams of carbs. (Plus, it contains a wee bit of protein and calcium, lowering the guilt factor just a little!)
Instead of sprinkles, sparkles or candies, we added decorative picks for flair. Just 1 tsp of Cake Mate Décors contains 3-4 grams of carbs…all pure sugar. A quick trip to Dollarama and we found a set of 24 pretty strawberry and flower cupcake papers with matching decorative picks. No need for added sugar when you can decorate carb-free!
Birthdays deserve to be celebrated. And no matter how healthy we try to eat on a regular basis, sometimes sweets have a place.
But by making a conscious effort to create a less sugary dessert, V. could have her (cup)cake and eat it too!
Nutritional values from Calorie Count.