The Switch to MDI: Part 1—Gearing Up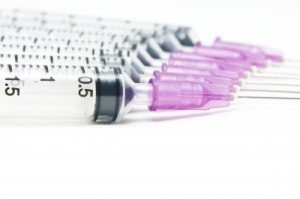 Awhile back I wrote about planning to make the switch to MDI (multiple daily injections). We had planned to make this change to V.'s insulin regime to gain better control over her blood sugars and have more flexibility in her meals. We decided to put off the switch to MDI, however, because V. surprised us with in-target blood sugars several days in a row following our summer holidays.
Well, that didn't last long! Once we got back into a normal routine, we noticed her suppertime readings inching back up into the teens and twenties. So at her regular check-up in September, we agreed with her diabetes doctor, nurse and dietician to make the switch to MDI.
Here's what we had to do to gear up for the switch:
Keep a 3-day food log. A big part of MDI is precise carb counting, so we had to keep a 3-day log of everything V. ate, noting how much (by volume or weight) and the available carb count (total carbs minus fibre and sugar alcohols) of each item. This was to demonstrate to V.'s dietician that we could fine-tune our carb counting skills. On the old system, we could round off and estimate. On the new system, precision is necessary: initially, to figure out V.'s insulin-to-carbohydrate ratios for her doses; and later, to determine when and if she needs extra shots throughout the day.
Receive basic training on MDI. Once the dietician OK'd our carb-counting skills, we met with her and V.'s nurse for a primer on the new regime. We learned the difference between basal insulin (the once-a-day background insulin that V. will receive every night at bedtime) and bolus insulin (the rapid insulin that she will receive at each meal, at her bedtime snack and any other time she eats carbohydrate-containing foods). We learned that through this intensive diabetes management plan, the multiple injections she receives every day will more closely mimic the proper functioning of the pancreas. And we learned how to use the new insulin pens that will replace the syringes we're currently using.
Establish a 1-2 week transition plan. It takes about a week or two to make the full switch to MDI. This is because it takes time to figure out the doses of each insulin that V.'s body needs. V.'s nurse laid out the plan for this transition phase for us, which included glucose checks at each meal, two hours after each meal, at bedtime, at midnight and at 3 a.m.; keeping a detailed food diary every day; providing carbohydrates only at meals and carbohydrate-free snacks in between; following a temporary sliding scale for insulin doses; making note of all physical activity; and checking in every second day with the nurse and dietician for insulin adjustments.
Pick a start date. We wanted to travel over Thanksgiving weekend, so we decided that the Monday night when we got home would be the ideal time to start. That way, we could enjoy the long weekend without having to precisely carb-count all of the turkey, potatoes and pie we planned on eating, and we could eliminate the stress of starting a new system while away from home. Plus, we could keep V. home from school on the Tuesday to monitor her, in case of extreme highs or lows due to the new insulin and estimated first doses. The nurse gave us instructions on how to physically make the switch that day, and we were good to go.
As you can see, making the switch to MDI isn't a simple matter. But we know that ultimately, all of this will be well worth it if we can get V.'s blood sugar under better control and keep her as healthy as possible.
Stay tuned for an update on the switch!
Image courtesy of piyaphantawong / FreeDigitalPhotos.net