Review: Take the Bully by the Horns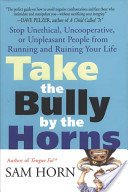 If you want to empower your children and you want to feel empowered yourself, than I recommend that you read, Take the Bully by the Horns by Sam Horn.
No More Bullying! Take the Bully by the Horns is an excellent bullying resource for parents.
This book will not only help you raise assertive children, it will also help bully proof you. Children are not the only ones who are affected by bullying. Adults are bullied, too. We are our children's most important role model. If we are to raise assertive children who are neither too aggressive or too passive, we must be assertive too. This book, by Sam Horn, helps us do just that.
Related posts: