I am the mom of 11, grandmother to 3, including a grandson with autism, mother-in-law to 3 and have been married to an amazingly patient man for 36 years. Our family was brought together via biology - 2 and adoption - 9. We are a transracial family and many of our kids have special needs. Life is full, funny and fulfilling.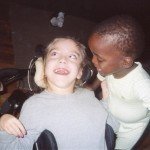 Our family is an adoptive family where mom and dad are white, but also includes a Latino son, a Korean-American daughter and four African-American children many of whom also have a variety of disabilities. We celebrate diversity in our family.
There is a surgery called East Asian blepharoplasy. It essentially "Westernizes" Asian eyes. Recently TV personality Julie Chen admitted to having this surgery as a young reporter after being pressured by a boss who said her eyes looked "too Chinese". These stories accentuate the fact that diversity is often not celebrated when my children leave home and that is invariably regrettable.
Perhaps you don't have diversity within your family, but maybe you do in your neighborhood or school. Everyone can find ways to introduce their children to diversity and encourage them to embrace it. You can set an example as a parent by reading books to your children about inventors, scientists, artists or history makers of different races. Watch movies or TV shows where the main characters are of a different race. Take them to plays where the characters are from a different race.
Making diversity a specific conversation will not tell your children that being different is bad, unless you are framing it that way. Talking about how great it is that people are sometimes so different from each other. It's interesting, fascinating and wonderful that our world is full of such a variety of human beings. Yes, you can also point out that as humans we all have similarities as well, but recognizing the differences doesn't mean they won't be able to see that. Tell them that it's fun to have friends that are different from ourselves.
Now, we just have to believe that as well and seek out friends that are different from ourselves. We as adults need to model this behavior too. Seek out friends that are different, have different beliefs, are a different race or religion. It's not always easy, but if we don't model this to our children all the books, movies or plays we expose them too won't have much effect. They need to see it in real life and that starts with us.
Tiny URL for this post: