Kristen currently lives in Toronto, Ontario with her partner and 2 cats. She has a Bachelor of Social Work from Ryerson University and engages in anti-oppressive work.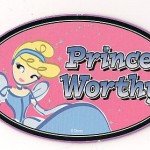 To put it simply, YES! There can be sexist stickers and they are designed for our children to want them and so we will buy them.
While I was in a dollar store recently, looking for project supplies and what not, I came across a sticker that made me stop dead in my tracks and want to run through the aisles screaming. The sticker had a picture of Cinderella on it with the words "Prince Worthy" written on it.
Read More »